>> Tuesday, June 22, 2010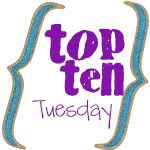 So I spent all last night pondering
OhAmanda
's
Vlog Post
. It's scary!! No, no not like that. The post was wonderful...it was cute, quirky & we got to see her personality come through. What's scary, is for a brief moment I thought about doing one myself. But I was afraid my personality might come though. :) Plus I couldn't figure out what to vlog about. So I will open this up for discussion, do you want to see your spineless leader vlog it up at the next top 10? If so, what do you think the topic should be? (If you say top 10, I will shoot you with my little brothers bb gun!)
Alright! On with the this weeks show. If you've paid attention to my blog, you'll have noticed I live in GA. (If you have not paid attention to my blog...I live in GA.) Unlike our fearless Vlogging Champion, I live in Middle Georgia. That's a location, not a city. But when Gunlover comes home, we're wanting to take a trip up north to check out Atlanta..so here's what I want to do there. :)
1. Ride the Rides At Six Flags Over Georgia
I've never been on a rollercoaster, but I've always wanted to! Last year I was going to see some of the rides at Disney, but then we discovered we had a blessing on the way. Did you know they won't even let you ride the Ferris Wheel at a mall-parking-lot-carnival if you're pregnant? Eesh!
2. See the Pandas at Zoo Atlanta
I have been in love with all things China, since I was a very small girl. (Young! Not short..er) And with that comes a love of giant pandas. I always knew about the ones in the San Diego zoo, but imagine my delight when I found out that Zoo Atlanta has giant pandas! Go check out the panda cam, get your fuzzy fix. :)
3. Catch a Braves Game
Jewel is definitely my child. She is that perfect blend of girly & tomboy. My evidence? She told me she wants to learn ballet & baseball. So I think it would be a blast to take her to her first real baseball game.
Take me out to the ballgame, lalalala...
Okay enough of that, next!!!
4. Visit the Atlanta Botanical Garden
Botanical gardens are such a peaceful place. Inside there's a tropical section, a desert section, an orchid center & more. Outside there's a Japanese garden (yay!), a rose garden, a hydrangea section and so much more to see. I could probably spend all day in there and still not get enough pictures, but I'd be willing to try. Hehe.
5. Explore Margaret Mitchell's House
Okay, anyone who knows me (and now all of you) knows that I mega-♥ Gone With the Wind. Scarlett's such a sassy, saucy girl. (I can't
even
imagine why that would appeal to me!!) Can you believe I've never seen the movie yet??? My sister BookAddict is awesome though! She found me a leather-bound copy at a book sale. Who sells these things?!?!?!?!?!?
6.
Eat, Burp & Fight
Alright, fine! I'll be watching the fight. *sigh* You people are no fun at all. Medieval Times is a restaurant where you get to feast while watching a joust, as though you were at a castle of old. Turkey leg anyone?
7. See the Mount Rushmore of the South
Stone Mountain isn't quite in Atlanta..it's about 30 minutes away, but still. It's basically a Confederate version of Mount Rushmore. No matter your feelings on the war, it's still remarkable peace of history, art & skill.
8. Take Gunlover To A Concert
My sweet thing has never been to a concert. My family adores music, so this was a bit culture shock for me. Not been to a concert? Ever? Huh? Nanoo, nanoo?!? So, being the music lover/singer/songwriter that I am, I have chosen to remedy this. I know Michael W. Smith will be there for the World Vision tour in October, I'd like to see if TSO will be around this year. I
just know
in my heart of hearts that Gunlover would most like to see Bieber (I'm so gonna get killed when he sees this!), but those tickets are so darn expensive...rats.
9. Take a Hot Air Balloon Ride
I have this on my list of this of things to do before I die. I've always thought they looked pretty, and I have always wanted to experience it. I was born in Albuquerque...how can I not love balloons????
10. Visit the Champion of Scared Vloggers Everywhere
Yeah, you're on my list Amanda! Oh wait, that sounded wrong...Seriously though, I think it's cool when you get to meet bloggers you adore, and the fact that you live right there??? Of course, I might have scared you off by the time this post is finished, which I'll totally understand, but if not..coffee someday?????
Alrighty! If you have made it through this weekly block of my insanity, kudos! Ya just might make the big leagues, kid. Okay I have no idea what leagues I'm talking about, but it sounded good. Your turn...show the linky love people. Go check out her oh-so-awesome site, and then tell us what fabulous things made your Top Ten.