>> Tuesday, June 1, 2010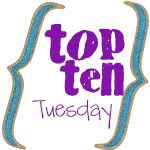 Yay! I'm getting my Top Ten out, on Tuesday for a change. As you know, yesterday was Memorial Day, a day we take to celebrate the sacrifices that so many have made, for our freedom. Being both a veteran, and a military spouse, this holiday means a lot to me. I explained my feelings in yesterdays post, so without further fuss, here goes.....
1.
The experiences they provide.
Okay, so I wasn't able to complete my service obligation, and I was only stationed at one base (in the middle of the desert no less). But I still met people, and had incredible experiences, that I will never forget.
2.
They take care of their own.
As I said, my service was terminated early due to medical difficulties, but I still have VA benefits. I will get a small paycheck for the rest of my life, have medical benefits, discounted home loans etc.
3.
Education.
Thanks to my military service, I now have the Montgomery G.I. Bill that I can apply to the Bachelor's degree of my choosing. There's so many to choose from that I'm still deciding though!
4.
Potential for language skills.
Through our military libraries, I have access to Rosetta Stone, online & for free. Those programs are expensive!!!! But because my husband is active duty, we can use them freely.
5.
Seeing the world.
I've always wanted to see the world...at least most of it. Until recently I'd never been out of the country.
But last November, I joined Gunlover in Asia for Thanksgiving. Yep that's right! Pregnant and round, I took a 14 hour flight overseas. And had a blast!!!
6.
Courage to set things right.
Because my military career was the first job I'd had, where the employers actually want to know what's going on in your life, everyone knew I had a bad marriage. None of my other jobs knew, or would have cared. In the military, I had people going to bat for me, and it gave me the support & strength to get out of an abusive marriage.
7.
The opportunity to realize how even small parts can play big roles.
When I was AD, my career field was Services. That encompasses lodging, food & recreation. I was trained in all 3 areas, but I personally worked in the Fitness Center (AKA the gym). When I was in tech school, Services was sort of regarded as very low on the totem pole. Where all the screw-ups who couldn't handle any other career went. I scored a 92 on my ASVAB, and this was where I'd been sent. I can't express how frustrated I was. Civilians were even worse. They'd ask what I did in the military, and when I enthusiastically explained my job, they'd give me pitying looks as if to say "oh, you don't have a
real
job." When I began working at my first base I discovered that in the real world, we're loved. We provide the soft bed for the TDY personnel, the hot meal after a long hard day, and importantly a place to become more fit to fight. A quote that sums it up best, has been attributed to both Sun Tzu & General Patton: "The more you sweat in peace, the less you bleed in war."
8.
I'm grateful for the freedoms this country still has.
Winston Churchill commented during WWII that "Upon this battle depends the survival of Christian civilization". Can you imagine how different our country would be if the Nazi's had won? What about the Japanese? The Viet Cong?
9.
Singing opportunities & cleaning up my bucket list.
I sing. All the time....if my Mom has me waiting while she answers another phone call, I'm creating my own hold music. In a fit of insanity, I put "sing the National Anthem for a sporting event" on my list of things to do before I die. When I was in the military, one of my coworkers outed me, and I got drafted to sing the National Anthem for a boxing match. From there, a civilian in charge of a basketball tournament in town, asked me to sing for it. I later sang for a squadron merger ceremony, a 4th of July celebration, and many other things. All totaled, I sang for 14 on & off base events. Until that point, I didn't even know I
could
sing the National Anthem.
10.
Probably the thing I'm most grateful for of all, is my darling Gunlover.
I met my husband at the community center on base, when I was still active duty. Seeing as he's from the East Coast, I'm from the South, and we were both stationed in the West, the odds of me having met him outside of the military, are slim to none. So USAF, I thank you for the husband I have today. I thank you for the chance meeting, the events that led up to our marriage, and for the precious bundle laying beside me now.
Alright now the lovefest begins! Link up with
Amanda
for
Top Ten,
and check out some other nifty blogs. :)